-----------
-----------
-----------
-----------
-----------
-----------

Monthly Feature Photo
It's never too early to get ready for summer. This metal patio chair was blasted with sand, and turned out great! All ready for a new coat of paint, and a drink in the sunshine!

Send us your photos and show off your latest project.
blastit@shaw.ca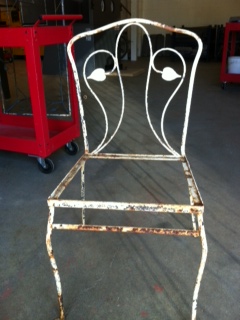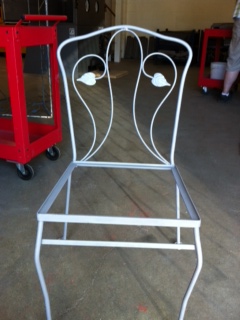 Blast-It! Do-it-Yourself Sandblasting is excited to assist with a wide range of projects. As we like to say, if it fits in the cabinet, you can blast it. From automotive and marine, to general household projects, to artistic creations, bring it to Blast It! and have a blast.
Each month on our site we want to feature an interesting project by a client who's made use of the do-it-yourself sandblasting services available at Blast It! Send us your "before" and "blasted" photos.
Send your photos and a description of your project to:
We can't wait to see what you've done!